APB4 Multiplexer
The AMBA APB v2.0 bus protocol – commonly referred to as APB4 – defines a low-cost interface that is optimized for minimal power consumption and reduced interface complexity. To enable a single APB4 Master to communicate with multiple APB4 Slaves (Peripherals) via a common bus, certain signals require multiplexing – the Roa Logic APB4 Multiplexer is a fully configurable & parameterized IP to provide this functionality.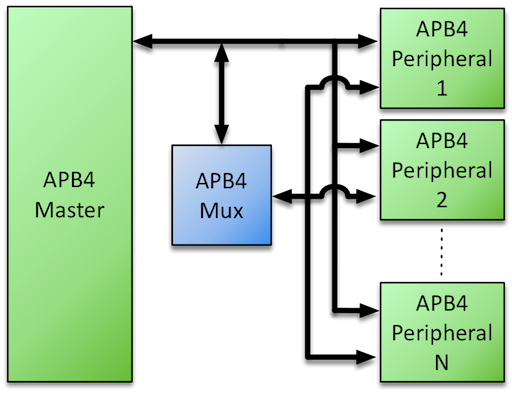 Documentation
Features
Full support for APB version 2.0 (APB4) protocol
Fully parameterized IP with:

User Configurable number of peripherals supported
User Configurable address and data widths

Support for user defined address mapping per peripheral
Compatibility
Compatible with APB version 2.0 (APB4) protocol
Interfaces
License
Released under the RoaLogic Non-Commercial License
Dependencies
Requires the Roa Logic AHB3Lite Package. This is are included as a submodule. After cloning the repository, perform a 'git submodule init' to download the submodule.